Ash Wednesday begins the season of Lent; a special time for personal reflection, repentance, prayer and the opportunity to participate in additional worship services. Christians are encouraged to prepare themselves for the celebration of the Lord's resurrection.
What is the significance of ashes?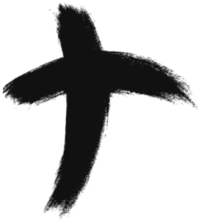 The purpose is to have a visual reminder that the wages of sin is death (Romans 6:23), and death means our bodies return to dust from which Adam was made (Genesis 3:19). As ashes are biblical pictures of repentance (Job 42:6; Matthew 11:21), the use of ashes eventually became associated with Lent, a penitential season of the church year. As a church custom, the imposition of ashes (as it is called) is an adiaphoron. God has not commanded it nor forbidden it. In Christian freedom, we may utilize the practice or forego it. During our Ash Wednesday service, we will be incorporating the Rite of Ashes at the end of our service; not on the forehead, but each worshiper will draw a cross with ashes on a sackcloth banner, which will hang in the sanctuary until Good Friday to remind us of our need for and commitment to repentance.
4:30 p.m. – Worship with communion
5:30 p.m. – Lent supper and fellowship
6:30 p.m. – Worship with communion