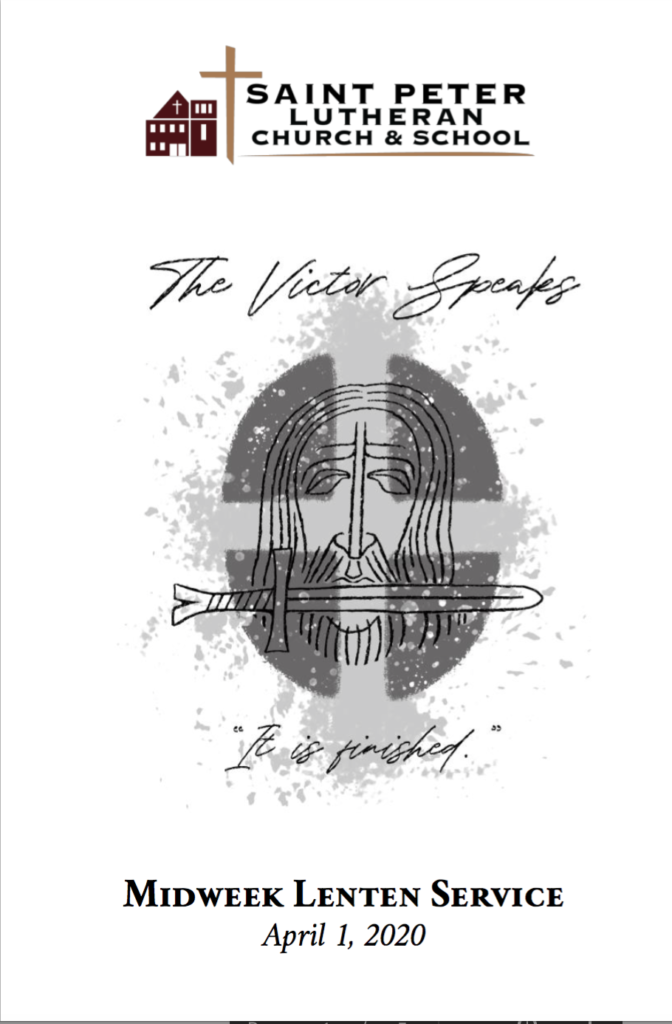 Please tune into our live streamed service today, Wednesday, April 1st @ 4:30 p.m.If you cannot view at this time, don't worry! It will be recorded for future viewing. Staff have purchased new equipment to improve the experience of our live stream services! The link to the viewing is here:

https://www.facebook.com/saintpeterlutheranchurchandschool/
---
As we draw closer to Holy Week our sermon series on the seven words of our Savior on the cross moves to its ending. Tonight we consider the meaning of the words "It is finished." What was finished? How was it finished? How does it become victory for us? You can access tonight's service on St. Peter Lutheran's Facebook page. If you cannot watch at 4:30, the video will remain on our page for a week or so.

CLICK HERE of the Service Bulletin to follow along!
---
Our services will be live streamed during Lent on Wednesdays @ 4:30 p.m. and Sundays @ 10:30 a.m.
Holy Week Services
Palm Sunday: 10:30 a.m.
Maundy Thursday: 6:30 p.m.
Good Friday: 6:30 p.m. (modified service of darkness)
Easter Service: TBD
Sunday services will continue to be available by cable TV broadcast (channel 7) on Mondays at 8:00 p.m. and Tuesday at 10:00 a.m.