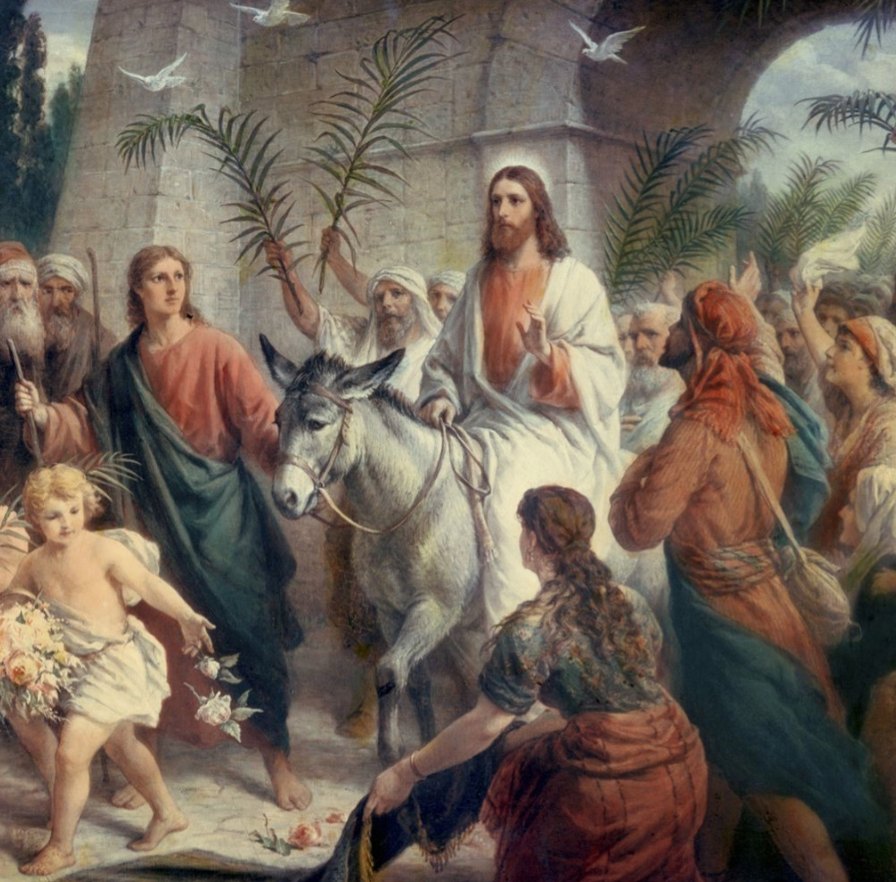 Palm Sunday Worship
Tomorrow's April 5th lifestream of Saint Peter Lutheran's Palm Sunday worship will take place at 10:30 a.m. We will also stream our Hispanic service at 1:00 p.m. Palm Sunday is the beginning of Holy Week – the most intense week of our Christian Year. Palm Sunday has been celebrated in the Christian Church since the 4th century. Hosanna is the shout of praise so familiar to Palm Sunday worshipers. It literally means "Save us we pray!" Jesus rode into Jerusalem to do just that. He is worthy of our full attention this week. You can access tomorrow's service on St. Peter Lutheran's Facebook page. If you cannot watch at 10:30 or 1:00, the videos will remain on our page for a week or so. Click here to go to our Facebook page
CLICK HERE of the Service Bulletin to follow along!
---
Please tune into our live streamed service this Sunday, April 5th @ 10:30 a.m. If you cannot view at this time, don't worry! It will be recorded for future viewing. Staff have purchased new equipment to improve the experience of our live stream services! The link to the viewing is here: https://www.facebook.com/saintpeterlutheranchurchandschool/
---
Holy Week Services
Palm Sunday: 10:30 a.m. Spanish Service 1:00 p.m.
Maundy Thursday: 6:30 p.m.
Good Friday: 6:30 p.m. (modified service of darkness)
Easter Service: 9:00 a.m.
Sunday services will continue to be available by cable TV broadcast (channel 7) on Mondays at 8:00 p.m. and Tuesday at 10:00 a.m.

We want to remind and encourage our members to continue to support our ministry here at St. Peter. Your offerings to our general fund support our called workers and provide the funds to continue our church and school mission. For instructions to sign up and use PushPay, click here: http://saintpeterlutheran.org/pushpay/
---
Church and School Drop off Lock Box!
A lock box has been purchased for offerings, tuition checks and other security sensitive information that is dropped off when the office is locked up. This box will be installed outside of the church office by the beginning of this week.
---
Church and School Office Hours
Our Church and School office will be open and have staff coverage Monday through Friday from 9:00 a.m. – 2:00 p.m. Feel free to contact any Executive Committee member with any questions, comments or concerns. Our goal is to continue to serve our members as best we can under the most current conditions. If you know someone who is not connected electronically, please reach out to them with this information. This will be posted on our website and Facebook Page.
Greta Fennell Cell: 612-799-2456 Email: gfennell@saintpeterlutheran.org
Pastor Kelly Cell: 224-430-3925 Email: jkelly@saintpeterlutheran.org
Pastor Heise Cell: 920-264-7665 Email: heise.justin@gmail.com
Jim Bakken Cell: 507-995-9431 Email: jabakken09@gmail.com
Brad Gurgel Cell: 407-274-7899 Email: bradgurgel@gmail.com
Jacob Yushta Cell: 507-380-0216 Email: jyushta1@gmail.com
Mark Blais Cell: 507-341-1314 Email: rodneyblais@gmail.com
---
Church Council Meeting:
Sunday April 5th @ 12:00 p.m. via Zoom
Here are our cancellations at a glance:
On-site worship services. These will be live streamed as stated above.
Sunday School, YFC, Cornerstone
On-site Bible Studies
On-site Confirmation.
Choir rehearsals
Bible Information Class
On-site LES and Little Lambs school.
April Quarterly Voter's Meeting
On-line Learning:
LES School – daily
Confirmation – first Wednesday of the month
Women's Bible Study – Sunday evenings
---
Here's some encouragement during these troubling days:
The Lord is my light and my salvation—whom shall I fear?
The Lord is the stronghold of my life—of whom shall I be afraid? Psalm 27:1

So many things are changing on a day-to-day basis, but one thing remains constant. The Lord remains the same and he remains the light of our life. His grace in Jesus Christ is our strength and our constant confidence. We need his Gospel promises of assurance and mercy more than ever. Still we wonder "how long we must endure these interruptions from our regular lives of work, school, worship, fellowship, and play?" Let us be mindful of the last verse of Psalm 27: Wait for the Lord. Be strong and take heart, and wait for the Lord!

God's blessings,

SPLCS Executive Committee