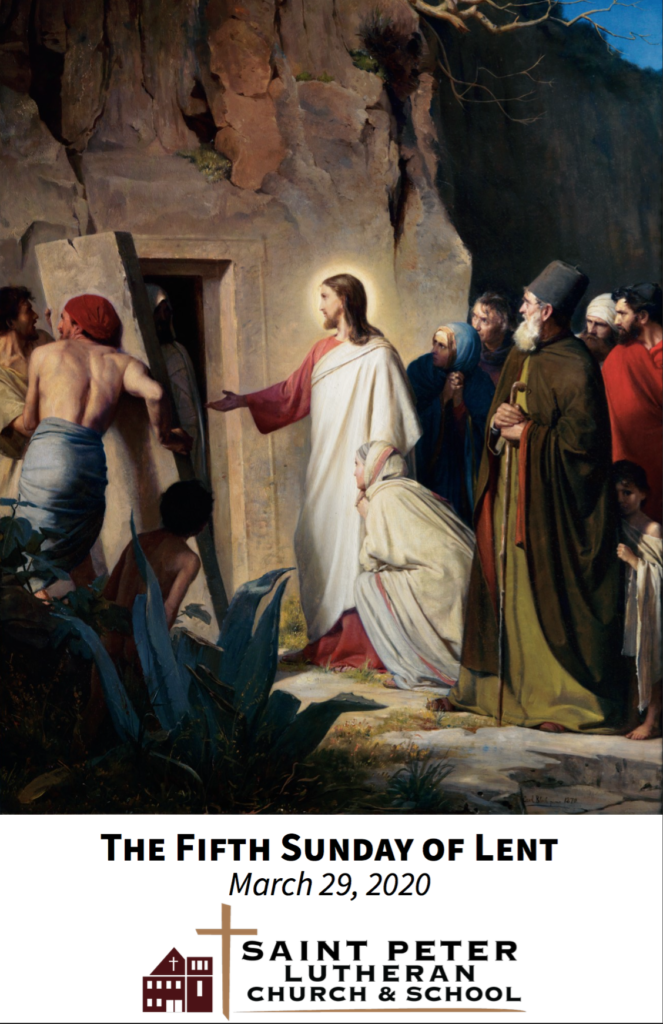 Please tune into our live streamed service this Sunday, March 29th @ 10:30 a.m. If you cannot view at this time, don't worry! It will be recorded for future viewing. Staff have purchased new equipment to improve the experience of our live stream services, this equipment will be up and running for tomorrow's service! The link to the viewing is here: https://www.facebook.com/saintpeterlutheranchurchandschool/
Sunday's Theme: Jesus Will Raise Us from Death to Life
On our Lenten walk to Calvary, the Church sees the Savior come face to face with death and defeat it completely. This was not only a past event in the death and raising of Lazarus. Jesus defeats spiritual death through our coming to faith now, and he defeats death in the future through the resurrection of the dead. Watch our service on Facebook at 10:30 a.m. central time. Click here to go to our Facebook page
CLICK HERE for the Service Bulletin to follow along!
Our services will be live streamed on Wednesdays @ 4:30 p.m. and Sundays @ 10:30 a.m. Sunday services will continue to be available by cable TV broadcast (channel 7) on Mondays at 8:00 p.m. and Tuesday at 10:00 a.m.

We want to remind and encourage our members to continue to support our ministry here at St. Peter. Your offerings to our general fund support our called workers and provide the funds to continue our church and school mission. For instructions to sign up and use PushPay, click here:

http://saintpeterlutheran.org/pushpay/
Our Church and School office will have irregular hours during this time. Feel free to contact any Executive Committee member with any questions, comments or concerns. Our goal is to continue to serve our members and provide the most up-to-date information as best we can. The situation will continue to change on a daily, if not, hourly basis. If you know someone who is not connected electronically, please reach out to them with this information. This will be posted on our website and Facebook Page.
Pastor Kelly: 224-430-3925
Pastor Heise: 920-264-7665
Jim Bakken: 507-995-9431
Brad Gurgel: 407-274-7899
Jacob Yushta: 507-380-0216
Mark Blais: 507-341-1314
Here are our cancellations at a glance:
Midweek and Sunday services (on-site). These will be streamlined as stated above.
Sunday School, confirmation, YFC, Cornerstone
Sunday and Wednesday Bible study
ALL choir rehearsals
Women's Bible study
LES and Little Lambs school. Online learning began Monday March 23rd.
Here's some encouragement during these troubling days:
The Lord is my light and my salvation—whom shall I fear?
The Lord is the stronghold of my life—of whom shall I be afraid? Psalm 27:1

So many things are changing on a day-to-day basis, but one thing remains constant. The Lord remains the same and he remains the light of our life. His grace in Jesus Christ is our strength and our constant confidence. We need his Gospel promises of assurance and mercy more than ever. Still we wonder "how long we must endure these interruptions from our regular lives of work, school, worship, fellowship, and play?" Let us be mindful of the last verse of Psalm 27: Wait for the Lord. Be strong and take heart, and wait for the Lord!

God's blessings,

SPLCS Executive Committee