On October 1 and 2, 2021 St. Peter Lutheran School will be hosting a S'crafters event in our fellowship hall. A S'crafting event is a time to bring all your crafting supplies to our fellowship hall to craft with fellow crafters for a couple of days in a focused and sustained way that isn't always possible with busy life at home. Table space, delicious cooked meals, and a fun, stress free working environment surrounded by fellow crafters will be provided for all who sign up!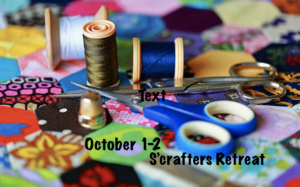 This allows those in attendance to drop other responsibilities for awhile and just craft! A S'crafting event allows crafters to make new friendships, connect with others doing similar crafts, and share and learn creative ideas with others with similar crafting interests!
All crafters (card makers, scrapbookers, quilters, etc) welcome. Join us for a two-day s'crafting retreat to support fundraising efforts on behalf of St. Peter Lutheran School.
$70 In Person Full Weekend Retreat
$35 In Person Friday Only: 4 p.m to 11 p.m.
$50 In Person Saturday Only: 9 a.m. to 8 p.m.
$48 S'crafting "to go" – craft kit mailed to you with exclusive video tutorial
$40 S'crafting "to go" – pick up your craft kit with exclusive video tutorial (no lunch)
*Meals, snacks, water and coffee provided
*Pop available for purchase
*Free Make 'n Takes
*Door Prizes! Goodie bags!
*Massage for purchase
*Swap Station for supplies, paper, and embellishments
*Business Consultants on site
Registration form (print and mail or complete the electronic form)https://docs.google.com/document/d/1tl1Q7De5khk5mmUm0tzNJsqerYDaZqpaWIiYHTlRpfs/edit?usp=sharing