Jesus Saves! Soccer Camp
Dates coming soon for 2023 – below was last years dates/order.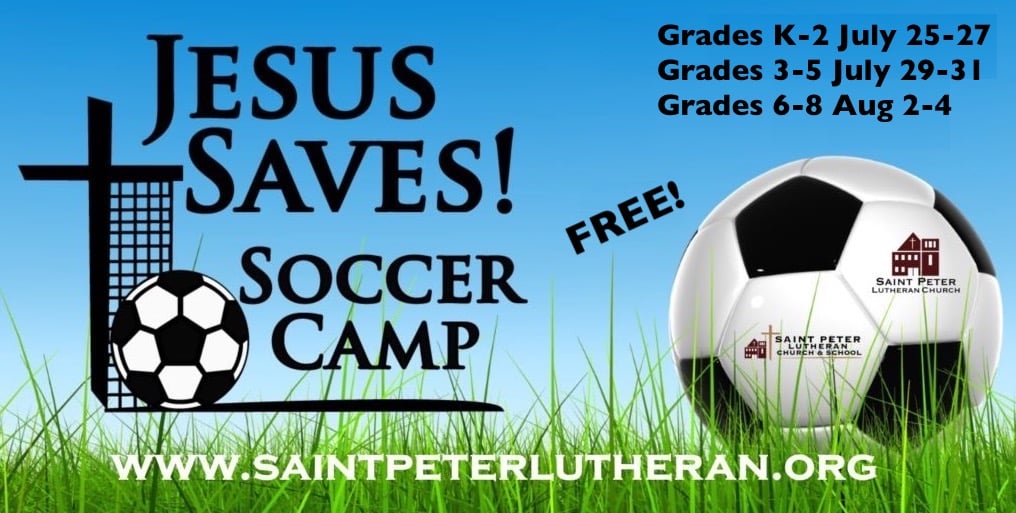 2023 DATES COMING SOON!
2022 Information was as follows:
Rather than one big camp, this year's Jesus Saves! Soccer Camp will consist of three smaller camps held on separate days. This will allow us to carry out our camp in a safe way and spread the participants out in Gault park! All camps will be held on their scheduled dates from 6:00-7:45 P.M.
As always, the camp will be offered free of charge, participants will receive a free camp t-shirt, and participants will enjoy learning the basics of the game of soccer!
(2021 Camp rules):Registration will open on June 1st. Camp sizes will be limited to 30 participants for K-2 and 35 participants for Grades 3-5 and Grades 6-8. We expect spaces to fill quickly.
Visit the registration link below to sign up online starting June 1st!
We look forward to sharing the game of soccer and the good message about Jesus, our Savior, with kids in our community!