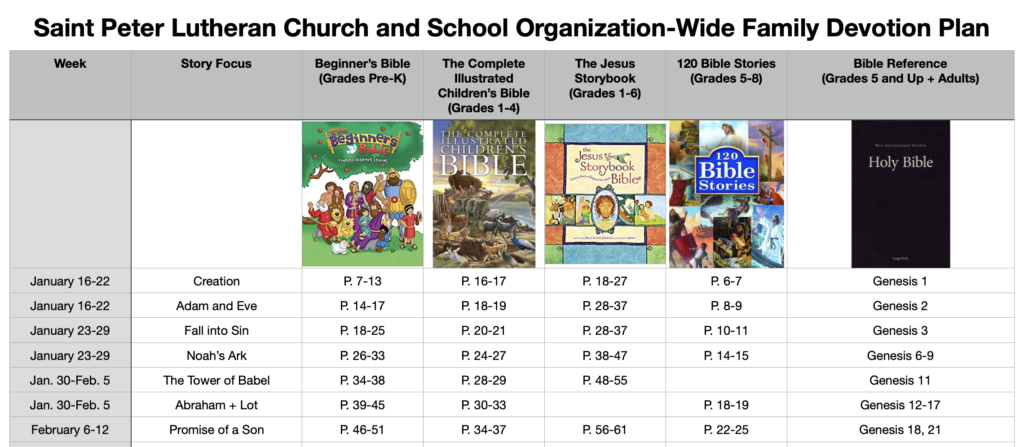 Printable Version of the 2022-2023 Devotion Plan:
Family Devotion Plan 2022-2023
As an organization, Saint Peter Lutheran Church and School will again be participating together in a shared family devotional plan during the 2022-2023 calendar year. 
During the year, each family is encouraged to read two Bible stories together with us each week. To help all participate with us, Saint Peter Lutheran Church will be providing Bible story books, free of charge, to all families with children in grades 8 and under. Families with children in Preschool through grade 1 will be provided with a Complete Illustrated Children's Bible and families with children in grades 2 through 8 will be provided with a 120 Bible Stories book. Standard Bibles will also be provided for adults and older children upon request.
The two weekly stories can be read directly from the Bible for families with adults and older children or from one of the two Children's Bible Story books. Each week the devotional plan will guide participants in finding the two stories in either the Bible or in the Children's Bible Story books provided to families.
What an awesome opportunity to read the Bible together and encourage one another to be faithful in sharing God's Word with our families! Romans 10:17 reminds us, "Consequently, faith comes from hearing the message, and the message is heard through the word about Christ." Each time we read the Bible individually or with our families, the Holy Spirit is at work in our hearts strengthening our faith and bringing us closer to Jesus! May the Lord bless our time in the Word of God together this year!